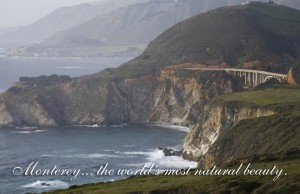 Perhaps you've come to Monterey, California to visit the world-famous Monterey Bay Aquarium and drive along the scenic 17-Mile Drive. You decide to visit the area for three days and you're wondering: "What else is there to do in Monterey?"
Here are our Top 3 Things to Do in Monterey CA:
Day 1: A Scenic Drive along Highway One through Big Sur Country
Day 2: Whale Watching
Day 3: Kayaking
Day 1: Forbes, Falcon Guides, and Lonely Planet have all named Highway One as one the best scenic drives in the country. Trip Advisor boasts that the 17-Mile Drive is one of the top five attractions in Monterey, CA. Along the drive just north of Monterey, you'll encounter the Elkhorn Slough wetlands, the Moss Landing fishing port, artichoke fields galore, and giant sand dunes reaching to the beautiful beaches. Continue a few miles south, and see gigantic Cypress Forests and the ruggedly spectacular Carmel coast line. Soon you'll approach the giant stands of Redwoods and the bridges of the famed Big Sur country. Big Sur calls to every adventurous traveler with its grand beauty. Located in the heart of the Monterey Peninsula, our Monterey Bed and Breakfast is a perfect departure point for your drive along California's beautiful Highway One.
Day 2: Many of us know that the big Blue Whale is the largest mammal, but, even so,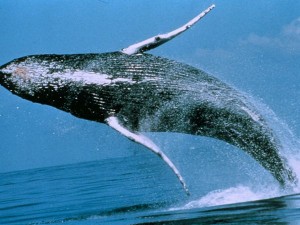 it's nearly impossible to fathom the size until you've seen one up close and personal! Whales can be seen year round here on the Monterey Bay. Right now is a great time for Humpback and Blue Whales, and coming through soon will be the Gray Whales. Some guests at breakfast recently mentioned they had seen a pod of Orcas out there too (yikes!). Start your expedition with any number of companies located on Monterey's Fisherman's Wharf. While we can't guarantee the exact position of the whales, we can guarantee that at our Old Monterey Inn you'll have a warm, cozy, welcoming place to return to after braving the sea all day, so see all your Monterey Lodging options at our award winning accommodations!
Day 3: Our final suggestion for adventure during your visit to Monterey is Kayaking for two in the wildlife sanctuary at Elkhorn Slough. The water is calm, perfect for kayakers of any level! We'll make sure you have what you need: kayaks, paddling orientations, wetsuits, paddle jackets, life vests, back rests, and a picnic basket with towels, fresh fruit, snacks, and drinks. Elkhorn Slough has such a wonderful day in store for you: sea otters playing in the water just around your kayaks and a whole ecosystem of birds—white-tailed kite, red-shouldered hawk, barn owl, chestnut-backed chickadee, and oak titmouse. Birders unite! Our Old Monterey Inn Specials include a kayak package, call us for more details.
We look forward to welcoming you to our warm, cozy Old Monterey Inn, setting you off on the road of adventure, and hearing all about it when you get back!