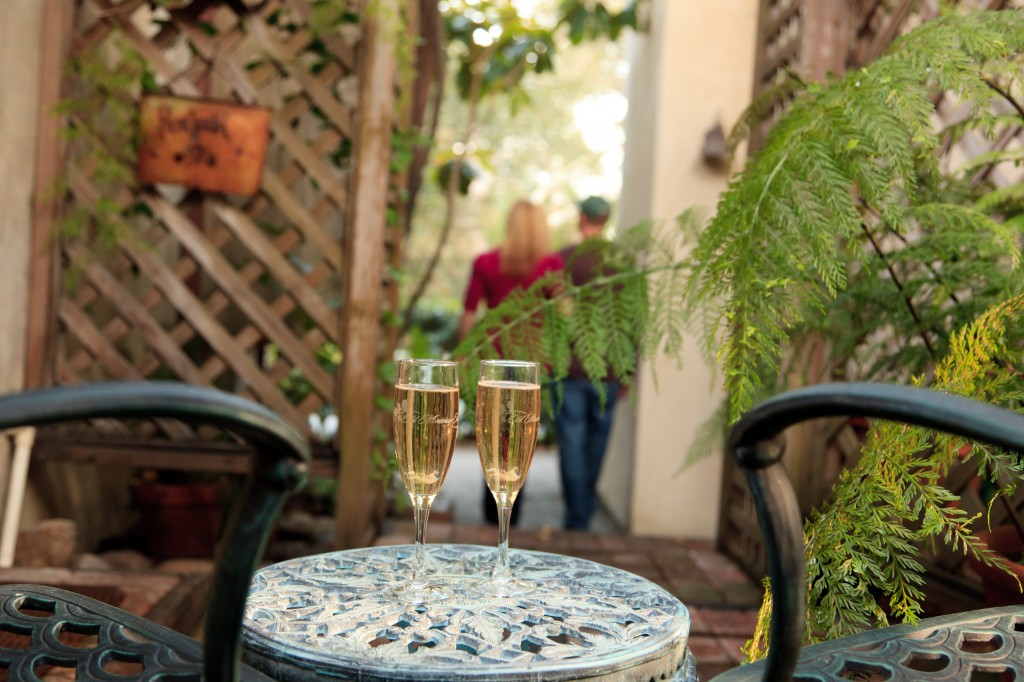 When done right, Valentine's Day can be the most romantic day of the year.  Here at the Old Monterey Inn, we are helping you do Valentine's Day right! Our Inn is nestled amid more than an acre of beautiful gardens, and each room boasts its own private fireplace—some rooms even have a two-person Jacuzzi tub!  Perfect for cuddling up, relaxing, and enjoying a moment away with your Valentine!
Your stay at our romantic Monterey Bed and Breakfast will start with wine and hors d'oeuvres, served from 4-6 pm, a tour of our award-winning property, and then some quiet moments with each other. Let us know ahead of time and we can have a bouquet of flowers, champagne, and chocolates in your room upon arrival!
As the sun sets on the Monterey Peninsula, you can curl up together in front of your own private fireplace and sip on a glass of port before heading out to enjoy a meal.  Let us know what type of food and ambiance you would like, and we will make suggestions and take care of reservations for you.  We'll even give you a card with directions to the restaurant of your choice.  Let us handle the logistics so that you can share a relaxing and romantic stay with your Valentine!
In the morning, our two-course gourmet breakfast can be enjoyed in our dining room, or can be delivered to your room.  Curl up in front of your own private fireplace and enjoy a delicious breakfast brought right to your room!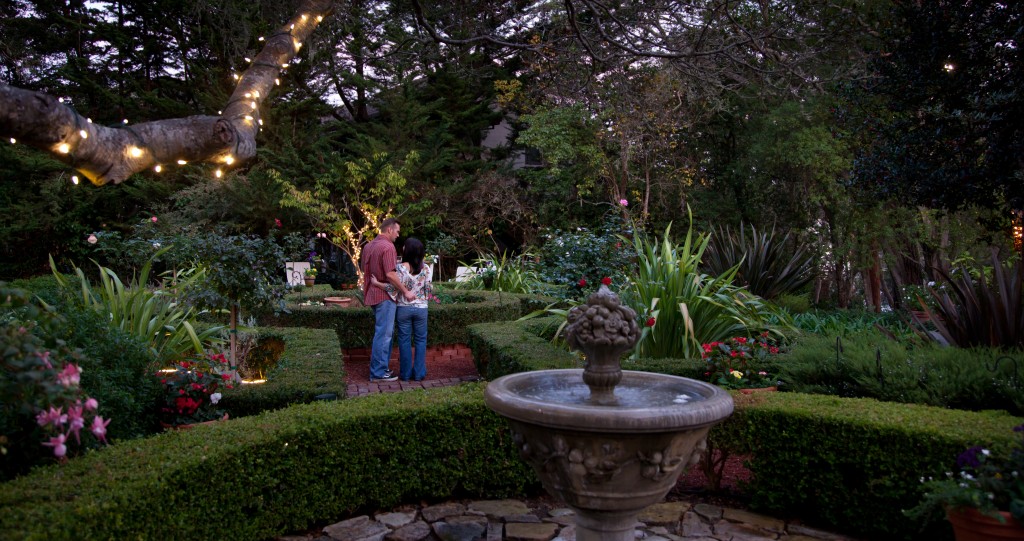 Once you've enjoyed breakfast, you can stroll around our lush, beautiful gardens and can even get a relaxing couples' massage in our on-site spa.  Let us know what massage treatments you desire, and we'll make all of the arrangements for you—just be in your room in the robe and slippers we provide for our guests, and our massage therapists will find you.  It's sure to be a relaxing and romantic day—just what Valentine's Day should be!
If you're joining us for a two night getaway, you might like to venture out onto the Monterey Peninsula on the second day.  Ask one of our expert concierges to propose an itinerary for you and make sure that it meets all of your expectations.  Here are some of the things that we think are particularly delightful:  a wine trolley that visits many different vineyards and comes with a box lunch, a whale-watching trip to enjoy the natural beauty of the Monterey Peninsula, kayaking in the calm waters of Elkhorn Slough, driving along the 17-mile-drive, hiking in Point Lobos and down through Big Sur, exploring the historic adobes of Old Town Monterey, and wandering along Carmel Beach.  The list goes on, but what's most important is that it fulfills all of your Valentine's Day dreams!  Describe for us the type of day you're looking for, and we'll take care of the details!
We look forward to welcoming you to the Old Monterey Inn and helping you do Valentine's Day in Monterey right so that it is the perfect romantic getaway for you and your Valentine.