Recently, as I was running on the scenic recreation trail along the Monterey Bay over near Pacific Grove, I noticed how many people are meandering along the coast discovering our fabulous Monterey tide pools! Much of the rocky coastline along Monterey Bay is ideal for viewing all kinds of the oceans spectacular spineless creatures! Some of the tide pools near Pacific Grove and Asilomar State Beach are world renowned for tide pooling! As a matter of fact, just a few miles from our Monterey Bed and Breakfast is Point Pinos, known as "The Great Tide Pool", which happens to be one of the richest tide pool habitats in the world!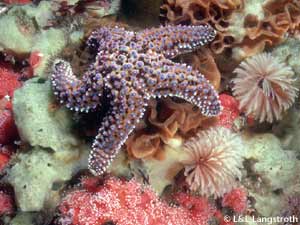 For those unfamiliar with this fascinating and educational past time, it is the activity of climbing around the rocky shore in the intertidal zone (the parts that are underwater during high tide) and discovering the sea life left behind in the small rock pools and crevices when high tide recedes. You will be amazed how many fish, crustaceans and mollusks thrive in this environment. It is a great (and free!) way to enjoy the ocean and the beautiful coastline! Photographers love the opportunity to capture the images of the vibrantly colored sea life in such a naturally beautiful setting.
A few rules of thumb for your tide pooling adventure:
Wear sturdy shoes with good traction for climbing around the wet and slippery rocks. Bare feet are certainly not recommended!
Clothing will, of course, depend on the weather, but dressing in layers is suggested. Shorts are a good idea so your cuffs won't get wet. Try to wear clothing that will dry quickly (you might get a splash or two!)
Sun protection is important, sunscreen, a hat, and sunglasses to protect from the glare off of the water (not many shade trees in the tide pooling area!)
No other equipment is really necessary, though cameras are a great idea, and some dry towels at the car might be nice!
Our Monterey Bay and its coastlines are part of the Monterey Bay National Marine Sanctuary which provides protection for the delicate (and not so delicate) creatures in the sea. While tide pooling is a fantastic way to enjoy these coastlines, please remember to walk carefully (we don't know who's under our feet!), touch gently with wet hands if you are so inclined, and please don't pick up the animals. Also, taking the animals is not permitted, and never turn your back on the waves or ocean!
With the fantastic weather we get on the Monterey Peninsula this time of year, it's the perfect time to enjoy the beautiful Pacific Ocean's wildlife. Give us a call, our staff will get you all set up for a great day of tide pooling, picnic basket and all!