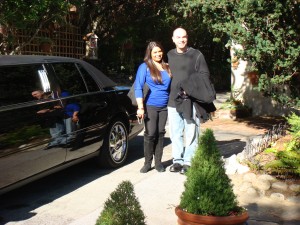 A few months ago we at the Old Monterey Inn posted a blog about the cutest couple who had just gotten engaged at our romantic Monterey Bed and Breakfast. This past week, we were honored to have them return to enjoy a luxurious Honeymoon in the very same room that they had gotten engaged in, the Brighstone Suite at our Monterey Bay Bed and Breakfast. The newlyweds, Mr. and Mrs. Joel and Paula Hamilton, were treated to our fabulous Ultimate Luxury Package, which includes an unforgettable limousine driven Wine Tour through the beautiful Carmel Valley, a romantic Couples Massage by firelight in our elegant Spa Room, fantastic dining packages, and more! I believe their Honeymoon Getaway was a huge success, and a memorable event for the new couple. We will certainly look forward to seeing them on an anniversary in the years to come!
I also would like to thank everyone who made our "Christmas at the Inns" event such a wonderful success. Our Monterey Bed and Breakfast is beautifully decorated for the holidays, and we received innumerable compliments on the decorations, ambiance created by the elegant Christmas songs played by Mr. Michael Martinez (the celebrated pianist from the Big Sur Marathon for you runners out there!), and of course, our freshly baked cookies! With the holiday decorations in place, and our warm fireplaces awaiting you, this is the perfect time to get away from your holiday stress, and enjoy a little pampering at the Old Monterey Inn.
We are currently offering our lowest seasonal rates, and we would love to have you keep us company this winter! Please give us a call or check our website for availability.
Don't forget what a great present it would be for the people on your list to receive a Gift Certificate from the Old Monterey Inn!! We will take good care of them, we promise!!
Have a wonderful Holiday Season,
Lawrence