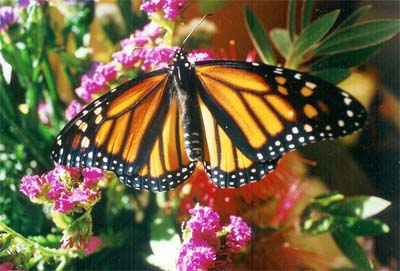 This week's Old Monterey Inn Blog is a tribute to the beautiful Monarch, and the annual butterfly migration through the Monterey Peninsula!
The Monarch Butterfly is one of the more stunning creatures in nature, and here on the Monterey Peninsula, we have the extreme fortune of being one of the stopping spots on the butterfly's annual migration south. Every year, as many as 10,000 Monarchs stop at specific spots in the area, most notably the Monarch Grove Sanctuary on Ridge Road in Pacific Grove.
The monarchs arrive to us starting in October, with the majority of them here mid-November through March. This perfect butterfly habitat consists of mainly Monterey Pines and Eucalyptus trees. The beautiful creatures cluster together to keep warm, and then when the morning sunlight hits them, they open their wings and create a stunning display of color! The Butterfly Sanctuary is free, and guests are encouraged to take photos and video!
Holding to tradition, Pacific Grove (also known as Butterfly Town, USA) celebrates its annual Butterfly Parade and Butterfly Bazaar on the first Saturday of every October. In addition there is also a Historic Home Tour that opens up classic Victorian homes in Pacific Grove for people explore!
Traditionally, during this joyous and whimsical occasion, local grade school children will don costumes specific to the grade they are in. Kindergarteners wear the iconic butterfly costumes, second grade as otters, third graders in traditional Native American garb, fourth graders as pioneers, and fifth graders as clowns!  Let's call it a Carnival of sorts. The Butterfly Parade begins and finishes at the Robert H. Down School on Pine Avenue and follows Fountain Ave, Lighthouse Ave, and then finally 17th Street. The Butterfly Bazaar begins as soon as the parade concludes.
We would love to welcome you to our award winning Monterey bed and breakfast for your accommodations while you're enjoying the butterfly migration. Also, we would so enjoy seeing your photos of the various Monarch Butterflies you encounter by sharing them on the Old Monterey Inn Facebook page or our TripAdvisor listing!