The Monterey Peninsula is one of the most uniquely beautiful coastlines in the world. As characteristic as Ecuador's Galapagos Islands, Monterey's coastline boasts plants like the Bermuda buttercup, mariposa lily, California aster, climbing morning glory, coast paintbrush, California poppy, and a variety of grass species. These plants are framed by the stunning backdrop of Monterey's blue, teal, navy, and clear waves that crash along the rocky shore in ever-changing patterns. The water draws many people to Monterey and it never disappoints.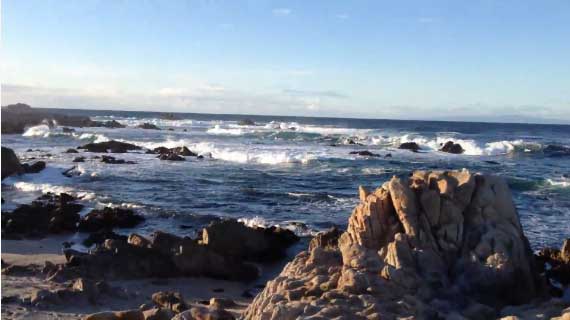 This area is perfect for adventure: enjoy an hour drive along the world famous 17-mile drive and prepare to have your breath taken away—it is widely recognized as one of the most beautiful drives in the world. Pack a lunch, put the top down on a rented Mustang, and buzz up and down the stunning 17-mile drive. You'll be done just in time to swing by our inn in Monterey for our daily wine and hors d'oeuvres.
Perhaps just watching the waves crash against the characteristically rocky shoreline just isn't close enough for you. If that's the case, you have chosen the right California vacation spot! Adventure awaits and requires only a little bit of planning (and we can help you with the planning!). Within one mile of the Inn, you can embark on a whale watching expedition. Recent sightings include Gray Whales, Risso Dolphins, Pacific White-sided Dolphins, and Humpback Whales. Get up close and persona l to some of nature's most spectacular mammals and then return to the Inn to soak in your very own Jacuzzi tub!
The Monterey Peninsula also offers sailing, surfing, kayaking (check out our kayak package at picturesque Elkhorn Slough!), and scuba diving. If you scuba dive, you're in for a real treat. The Monterey Canyon is an underwater canyon that lies a mile below the surface of the water and is close in size to the Grand Canyon. Discover it for yourself, and you'll be among a select few who have shared that adventure. We are happy to help get the details all planned out for you.
Also characteristic of the Monterey coastline are the immense kelp beds. Whether you're scuba diving, sailing, walking along the beach or boogie boarding, you're sure to encounter kelp that is native to California's Central Coast. Did you know that kelp contains high concentrations of iodine, iron, sodium, phosphorus, calcium, magnesium, potassium, and other vitamins and amino acids?! Soon, kelp will be touted as a super-food alongside kale and Swiss chard! If wild kelp is too much for you, though, visit the Monterey Bay Aquarium's kelp forest. It is 28 feet deep and is full of crabs, octopus, urchins, rockfish, sardines, sharks, and (of course) kelp! One way or another, kelp will be a part of your adventure into the coastline of the Monterey Peninsula. Don't worry, though, it's not part of our gourmet breakfasts!
Once you've enjoyed all that the Monterey Peninsula has to offer, you might be hoping for a romantic spot to watch the sun set over the turquoise blue waves. The coastline touts many benches for just such an evening, and at the Old Monterey Inn, we've taken it a step further. We can set up a private beach bonfire for you on Carmel beach! You'll walk up to a crackling fire, a bouquet of a dozen red roses, an assortment of artisan meats and cheeses, freshly baked cookies, a bottle of sparkling water on ice, and a fleece blanket. As the sun sets over Carmel beach, the lull of the waves will at once relax and invigorate you. A bonfire on Carmel beach promises to be a spectacularly romantic evening.
We look forward to welcoming you to our Monterey bed and breakfast, our unique coastline, and our hearts as you embark on the adventure of a lifetime!