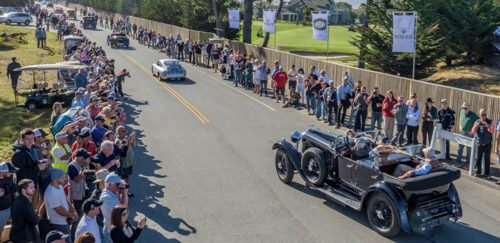 Monterey Car Week 2022
Schedule courtesy of What's Up Monterey
Monterey Car Week is one of the most anticipated automobile events in Monterey County, California every year!
It's full of days on end of auto shows, auto memorabilia, VIP parties, and new car reveals from nearly every luxury manufacturer. Many of these events are totally free, too, adding to the fun!
MONTEREY CAR WEEK EVENTS SCHEDULE
FRIDAY AUGUST 12, 2022
Monterey Car Week Kick-Off
SATURDAY AUGUST 13, 2022
Monterey Pre-Reunion
SUNDAY AUGUST 14, 2022
Monterey Pre-Reunion
MONDAY AUGUST 15, 2022
Automobilia Monterey Expo
The Porsche Monterey Classic
TUESDAY AUGUST 16, 2022
Classic Motorsports Magazine Monterey Kickoff Cruise-In
Automobilia Monterey Expo
Concours on the Avenue *canceled this year
WEDNESDAY AUGUST 17, 2022
Rolex Monterey Motorsports Reunion
Bonhams Quail Lodge Auction
Carmel Mission Classic *canceled this year
Hagerty Motorlux *formerly McCall's Motorworks Revival
Monterey Jet Center Auction *new auction this year
Pebble Beach Motoring Classic
Russo and Steele Auction
Little Car Show
Automobilia Monterey Expo
THURSDAY AUGUST 18, 2022
Bonhams Quail Lodge Auction
Legends of the Autobahn
Monterey Jet Center Auction *new auction this year
Mecum Monterey 2022 Auction
Russo and Steele Auction
Pebble Beach Classic Car Forum
Pebble Beach RetroAuto
Pebble Beach Tour d'Elegance Presented by Rolex
Prancing Ponies Women's Car Show
Rolex Monterey Motorsports Reunion
FRIDAY AUGUST 19, 2022
Bonhams Quail Lodge Auction
Mecum Monterey 2022 Auction
Russo and Steele Auction
Gooding & Company's Pebble Beach Auctions
Pebble Beach Classic Car Forum
Pebble Beach RetroAuto
Pacific Grove Rotary Concours Auto Rally
Rolex Monterey Motorsports Reunion
RM Sotheby's Monterey
The Quail, A Motorsports Gathering
Werks Reunion
SATURDAY AUGUST 20, 2022
Exotics on Broadway
Mecum Monterey 2022 Auction
Annual Ferrari Owners Club Gathering
Concorso Italiano
Concours d'LeMons
Gooding & Company's Pebble Beach Auctions
Pebble Beach Classic Car Forum
Pebble Beach RetroAuto
Rolex Monterey Motorsports Reunion
RM Sotheby's Monterey
SUNDAY AUGUST 21, 2022
Pebble Beach Concours d'Elegance
Pebble Beach RetroAuto