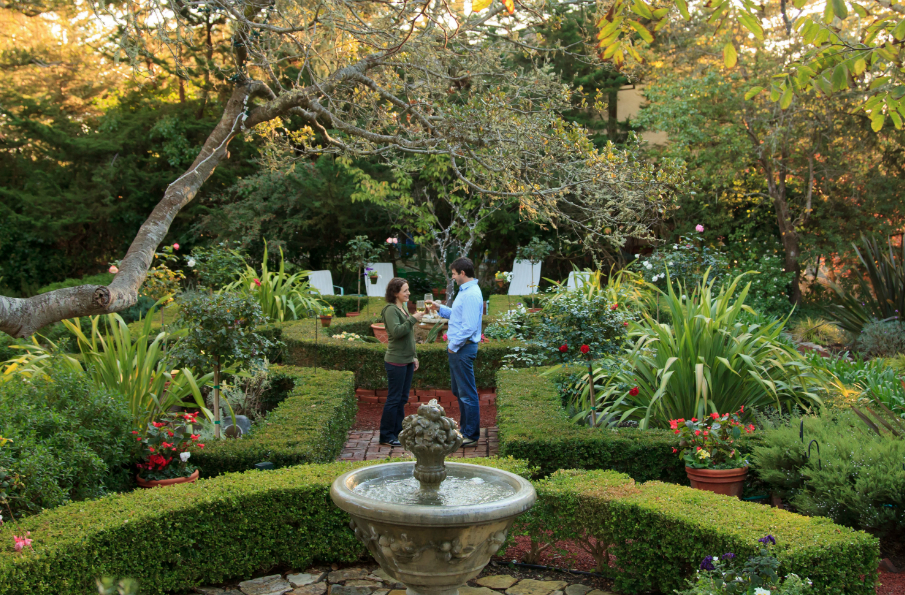 Now that you have fallen in love and become engaged, the next step in your happily-ever-after is a magical wedding. Let us help you celebrate your love and commitment to one another at our luxurious Monterey bed and breakfast. Our award-winning inn has earned national acclaim and was even featured on the Today Show as a romantic destination. So whether you're imagining a private elopement with just the two of you or an intimate ceremony with up to 40 guests, we have the venue and package to make your special day unforgettable.
The Splendid Setting
Our glamorous estate provides the perfect backdrop for your intimate wedding or elopement. Nestled off the beaten path in the heart of Monterey, our peaceful Inn sits on over an acre of serenity. The estate features a whimsical garden that is reminiscent of a scene in a fairytale book, making it ideal for your storybook wedding. Age old oaks and majestic cedars watch over the formal English garden, complete with rose trees, fragrant lavender, vibrant flowers, and lively hummingbirds. Now picture just you and your best friend holding hands and delighting in your love for one other. When planning your big day, our experienced staff is here to give you suggestions regarding local vendors for catering, flowers, music, and any other detail you may have questions about. We are happy to to help you make your Monterey wedding everything you have dreamed of and more, so you can relax and savor every moment with your loved ones. Our unmatched wedding venue is guaranteed to create a memorable ceremony.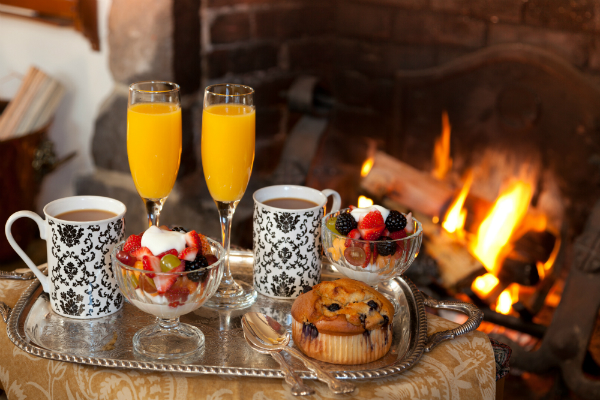 The Perfect Package
For an intimate ceremony for just the two of you with no distractions and no stress, we have handcrafted the ultimate Elopement Package. This package includes two nights for the special couple in our best available suite at the time of check-in. We will provide a full day of wedding coordination and an exclusive ceremony in our captivating garden. You will also receive Champagne, engraved flutes, daily gourmet breakfast, evening wine and hors d'oeuvres, concierge services, and all our deluxe amenities at the Inn. If you are dreaming of a ceremony with all of your family and friends, we also have an Intimate Wedding Package available to accommodate up to 40 guests.
The Glamorous Getaway
The beauty of weddings is that your love story is only just beginning. So why not extend your stay and spend your honeymoon in Monterey as well? Our charming Inn is the perfect place to spend some quality private time with one another and celebrate this joyous occasion with one of our many romantic packages. Whether you're drinking wine by the cozy fireplaces, strolling through the sweet-smelling gardens, admiring the starry sky from the private balcony, or indulging in a relaxing massage treatment in our private spa, we guarantee that the opportunities for romantic here are endless. If you can tear yourself away from your suite, you are sure to find even more adventures nearby. Monterey has many local vineyards, stunning shores, and state reserves where you can make fun memories that will last for a lifetime.
So if you are looking for an enchanting wedding day, join us at Old Monterey Inn, where romance, elegance, and charm combine to create the day of your dreams. The weather right now is perfect for a gorgeous summer wedding outside in our beautiful gardens. The crisp air in the fall also makes for a great autumn wedding with a vibrant array of warm colors painting the garden. If you would like to celebrate your love here or want more information, fill out this form and we will get back to you!