This is a follow up to my blog on January 13, 2010.  I know that quite a few of you have been following my story.  After being reunited with my high school sweetheart, Teddy, after all these years, we were married on Christmas Eve of 2010.  Every day we wake up to laughter and go to bed smiling. As I said, the romance and everlasting love that they write about in all those mushy books is indeed alive and happening at the Old Monterey Inn.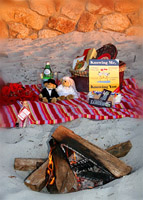 As I said, romance is a big thing at the Old Monterey Inn.  At least once a week someone gets engaged here and we love to be a part of the surprise event.  We are very good at keeping secrets and helping to plan special ingredients to embellish the surprise!  Our Beach Bonfire with the message in a bottle is an example of a unique way to propose!
We also have couples celebrating anniversaries all week long.  These happy couples have been returning to the Old Monterey Inn year after year (some for over 20 years) for their special day.  Some actually got married on the grounds of the Inn, and yes, our Monterey bed and breakfast is available for for small intimate weddings (20 people or less).
So, if want some of the good vibes to rub off, come and visit us at the Old Monterey Inn, the most romantic bed and breakfast in Monterey, and the #1 rated B&B on Trip Advisor.