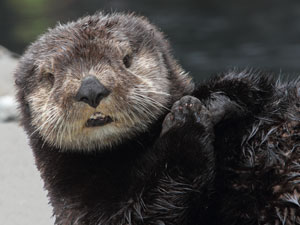 Greetings! We just heard some news from the
Monterey Bay Aquarium
!
Being one of the most popular attractions near our romantic getaway in CA, the Monterey Bay Aquarium should be considered a must see during your next visit to the Monterey Peninsula.
Our guests at our 
Monterey bed and breakfast
continue to return from their aquarium experiences raving about the variety of sea life and the beautiful displays. The folks at the Monterey Bay aquarium continue to outdo themselves as they have just announced the addition of the "Crown Jellies" to the already fabulous Jellies Experience.
Being the first aquarium in the world to display these amazing animals, we feel very fortunate that the aquarium is just a few short miles from our Monterey luxury B & B. Also during your visit, make sure you meet Abby the sea otter and her playful friends!
The Old Monterey Inn Bed and Breakfast
has two-day VIP passes for sale, no waiting in line! Monterey Bay Aquarium is open from 9:30 am to 6:00 pm (8 pm on weekends) during the summer. See you there!