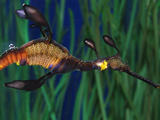 This week, The Old Monterey Inn would like to give special recognition to our beloved and world-renowned Monterey Bay Aquarium. The Monterey Bay Aquarium is an attraction that is iconic of Monterey's symbiotic relationship with the ocean. Everyone—from the expert oceanographer to the curious child— takes away something special from the Aquarium experience. 
This past year has seen quite a few additions to the Aquarium's marine life exhibits.  Namely the two newest exhibits, the romantic seahorse exhibit and the 70's style jammin' jellyfish exhibit as both are great fun for visitors of all ages. Also, be sure to check out the aquarium's new Weedy Sea Dragon babies on YouTube. Hopefully, the larger they get, the easier it will be to spot them!  
Each month the aquarium hosts a medley of events that include dinner at the aquarium, daytime shows, scheduled sea otter feedings, ocean-themed arts and crafts work space for kids, and much more! Just last week two of our guests had a picnic breakfast on the way to an early morning feeding at the Aquarium during which they had the opportunity to feed the fishes! 
One of this month's events is to show your support for California's Ocean at the Allied Arts Guild in Menlo Park on Saturday September 22, 2012. Join the Monterey Bay Aquarium for an extraordinary evening of food and wine featuring some of California's most admired female celebrity chefs and winemakers. 
As a favorite Monterey getaway, we strongly encourage guests to save some of your precious vacation time for the Monterey Bay Aquarium. VIP Aquarium passes can be purchased at the Inn. Purchasing them here at the Old Monterey Inn will save you the trouble of waiting in line at the gates and are valid for two consecutive days, so let us know when you would like to visit the Monterey Bay Aquarium.