At our Monterey bed and breakfast our goal is to make every portion of our guests' visit enjoyable, but breakfast time seems to be the most anticipated part of the day. Our dining room is elegant and cozy with the fire burning and guests chatting about their adventures from yesterday. Every morning we serve a beautiful gourmet breakfast, and invariably the conversation turns to the food that is being served.  The menu changes daily, though no matter what the menu, it's always scrumptious. Not a week goes by that someone won't ask for a recipe or if we have a cookbook of our recipes available. Since our recipes are not compiled into one book (on the to-do list!), we thought this might be a good venue to share a few favorites with everyone! Enjoy sinful breakfast in Monterey!
Some of our guests' favorites seem to be Herbed-Baked Eggs, Sun-Dried Tomato and Asparagus Frittata, Blueberry Pecan French Toast, Broccoli Cheddar Casserole, and Strawberry Crème Crepes.  People rave about the crepe sauce we use so often, we thought we'd share the crème recipe with you! (Keep in mind that with this recipe, you'll get enough for 20 crepes… 😉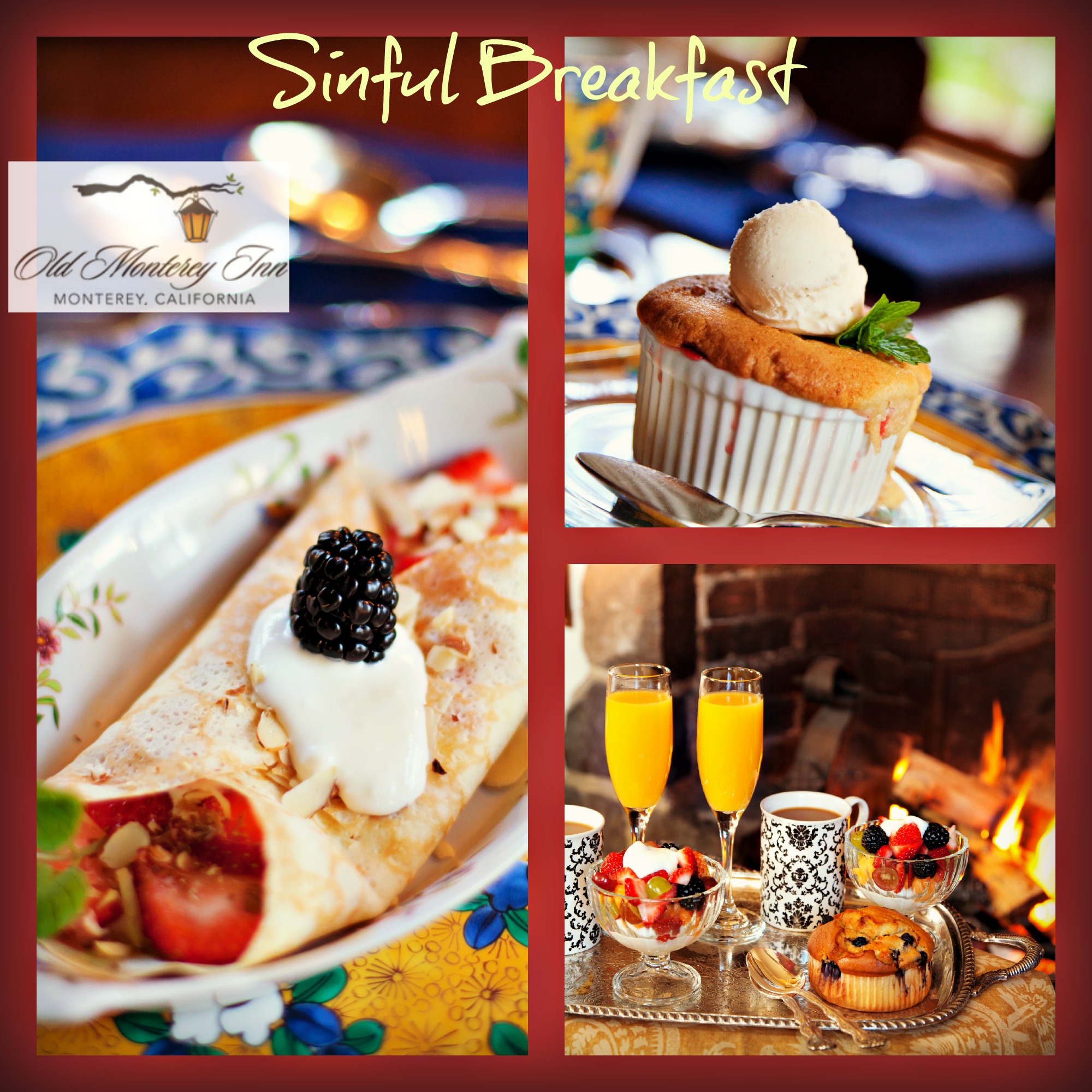 Cream Crepe Sauce Recipe
1/3 cup granulated sugar
½ cup cottage cheese
1 cup sour cream
½ cup powdered sugar
½ cup cream cheese
¼ cup heavy whipping cream
Directions
In a blender, whip the cottage cheese and the cream cheese until smooth.  Blend in sour cream, powdered sugar, and granulated sugar.  Blend in heavy whipping cream.  For best results, refrigerate for 8 hours so that the crème can thicken.
The crème is sweet and rich, and would be just fabulous as peaches and crème, strawberries and crème, spoonful of crème… you get the idea!
We hope you enjoy the crème recipe—stay tuned for other recipes and Monterey upcoming events.