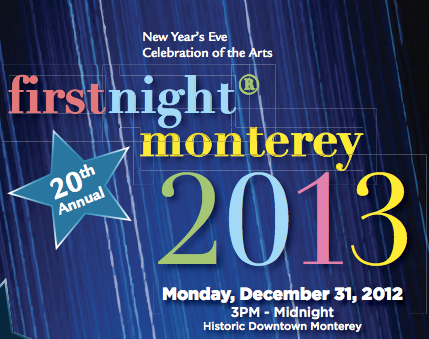 Happy Holidays everyone! There is always a lot happening on the Monterey peninsula, and this winter is no exception! This season in Monterey brings a myriad of events. The yuletide joy of the winter holidays is fading, but that brings us to the final holiday of this year and the first of next: New Years in Monterey! We have a delightfully active cultural community, and it shows with the fantastic variety of events scheduled for the New Year's holiday.
This particular blog entry is about our grand event called "First Night Monterey."  Monterey's 20th annual New Year's Eve celebration of the arts is a variety event with different clubs and community groups each contributing towards one common goal: celebrating beginnings and ends, uniqueness, and commonalities. The festivities include 9 hours of entertainment starting at 3:00 pm for the kids, 5:30 pm for the twilight parade, and 11:00 pm for the Grand Finale and Countdown!
This year will feature three core cultural representations: Art, Dance, and Music. Local art galleries participate and show some of the finer pieces of visual art. There will be music that ranges from country music to jazz to slam poetry. And of course, there will be dancing!! The festival offers folklore dance to traditional cultural homages to pop. So if you feel the urge to bust a move on the last night of 2012, you will have every opportunity. There are two Grand Finales, both indoor starting at 11:00 pm. You can go online to buy a First Night Monterey button for entrance in advance or to find out more details of this big Monterey event.
The best part of all of this is that our Monterey Bed and Breakfast is just a short walk from the festivity areas. The children's events take place at Colton Hall, which is the next block down on our street! If you would like to join Monterey's First Night, consider our award winning bed and breakfast for your lodging. A joyful new year's event combined with a warm and cozy place to stay is a first class experience.
We would love to have you join us at our Monterey B&B to ring in the New Years in Monterey, but no matter where you choose to celebrate, we wish you your best New Years ever!