If you love jazz, Monterey is the place to be! Learn more about upcoming Monterey jazz festivals, musician lineups, and special events. Award-winning jazz festivals are hosted in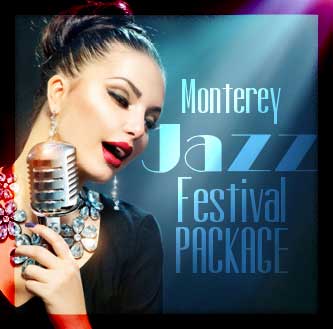 Monterey every year, and even if you cannot make it for a festival, there are several local Monterey jazz clubs that feature great local talent year-round.
Check out our special Monterey Jazz Festival Package, offered any time during the month of March, which includes a fabulous dinner for two! >> Learn more
Dixieland Monterey's Jazz Bash by the Bay
Dates: March 7 – 9, 2014
Location: Monterey Conference Center
Enjoy the best in early jazz, big band, swing, ragtime, blues, zydeco and gypsy jazz on the Monterey waterfront!
Click here for the 2014 Jazz Bash by the Bay schedule.
Next Generation Jazz Festival
Dates: March 28 – 30, 2014
Location: Monterey Conference Center
Every year the Monterey Jazz Festival invites top student musicians ranging from middle school to college from around the world to participate in 3-day music festival and competition. Come support the next generation on jazz!
Click here for more information.
Monterey Jazz Festival 2014
Dates: September 19 – 21, 2014
Location: Monterey County Fairgrounds
The World's #1 Jazz Festival as voted by JazzTimes readers! Enjoy over 500 artists performing nonstop on 8 stages for 3 nights and 2 days!
Tickets will be available soon! Stay tuned for details!

Top Monterey Jazz Clubs
Cibo Ristorante Italiano – Voted by locals as the "Best Club for Jazz" in Monterey for years! Enjoy cocktail jazz on Sunday evenings and soulful jazz/funk to Latin jazz on Wednesday through Saturday nights.
Fireplace Lounge – Another Monterey hot spot, this is a great place to enjoy a cocktail, small plates, and live jazz on Friday and Saturday evenings.