"One of the year's top 12 inns."
– Country Inns Magazine
"During breakfast au jardin, you'll be dazzled by a sea of candy-colored impatiens."
– Travel & Leisure, Spring 2002
"Rated the very best in the region"
– Best Places, 2002
"Visitors are treated as house guests, made to feel at home with such thoughtful touches as goosedown comforters and pillows, breakfast in bed and Sherry and crackers at 5:30 every evening."
– Bon Appetit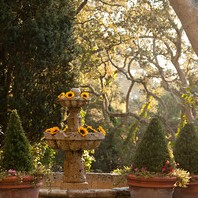 Old Monterey Inn Photo Gallery
View images from our most recent photo shoot with Jumping Rocks.  Go to http://photos.jumpingrocks.com/OldMontereyInn and enter monterey as the password.
All images are copyrighted to Jumping Rocks and Old Monterey Inn.  If you would like to use any of the images in a digital format or print you need to have permission. Please contact us with your request.
See why a romantic getaway to Old Monterey Inn is sure to please! We look forward to having you at our Monterey bed and breakfast.