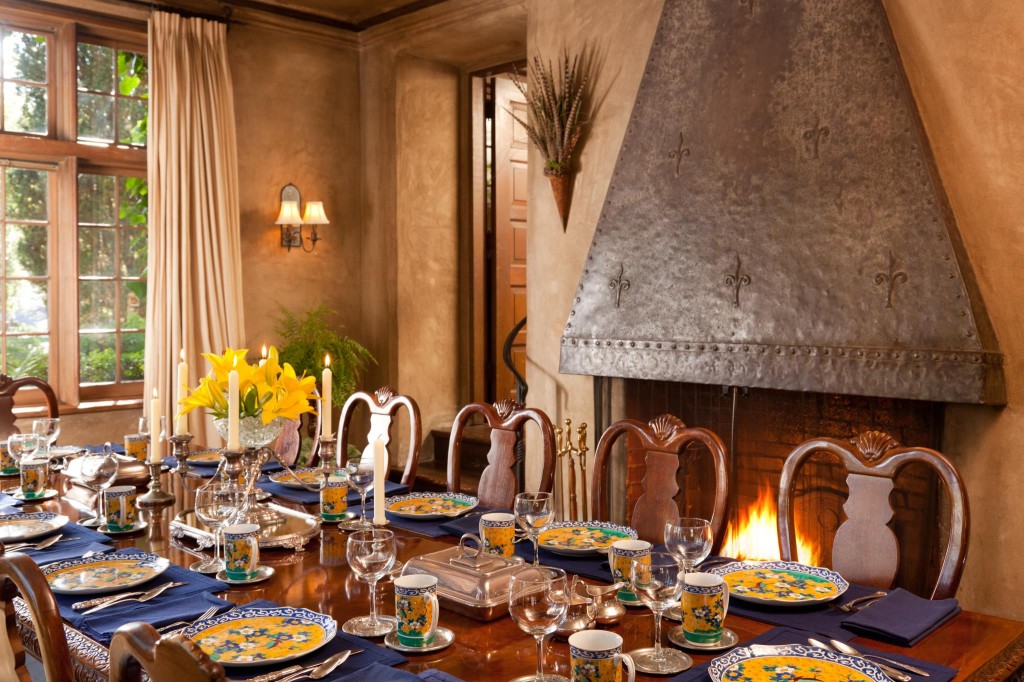 We often hear the question, "What is a bed and breakfast, and how is it different than a normal hotel with a continental breakfast offering?"  This is a question we are proud to answer because we are proud of what sets us apart at our bed and breakfast inn in Monterey. 
Well, to start, we put out fresh cookies at 2:00 P.M. each afternoon.  Just two hours later, from 4:00 to 6:00 pm, we serve wine and hors d'oeuvres in our parlor—usually a Chardonnay and a Cabernet Sauvignon from a local Carmel Valley vineyard, and a selection of artisan cheeses.  The following morning we serve a two-course, gourmet breakfast and you can either join other guests at our beautiful dining room table, or you can enjoy breakfast in your room on trays. Breakfast at our inn in Monterey is served at 9:00 and the guests that join us in the dining room have commented that it feels like Thanksgiving dinner—and perhaps even better than Thanksgiving dinner because we do the dishes! Rest assured you will receive warm hospitality from our staff and the opportunity to interact with guests from around the world.  In fact, we've had guests from Switzerland, England, Australia, China, Spain, Brazil, Canada, and all regions of the United States just to name a few.  Wherever you are from, we are so excited to welcome you to the Old Monterey Inn, and make you feel like you are at home in one of the finest romantic getaway spots!
Our inn in Monterey provides a sense of camaraderie, and the opportunity to meet and chat with other guests.  We've seen many wonderful friendships begin at our breakfast table: one couple was staying with us to celebrate their 10th wedding anniversary, and upon announcing this at the breakfast table, they were greeted with a warm serenade of "congratulations!"  Later that evening, a couple from another room approached our Innkeeper, Catherine, with a bouquet of flowers and asked if she could put the flowers in the room of the 10th anniversary couple when they were at dinner.  The note on the flowers said, "Congratulations on your 10th wedding anniversary—it's something to be proud of, and we are so glad to have celebrated this event with you!" Cool!
 Apart from breakfast, what sets us apart? The property of our inn in Monterey embodies privacy and peace and quiet on more than an acre of lush gardens.  The custom half-timbered English Tudor mansion remains true to its original form and beauty with all the 21st century conveniences added in, and a warm and welcoming ambiance that will make you feel like you've arrived at home! 
The Old Monterey Inn is enshrined in beauty, luxury, relaxation, and most importantly, kindness.  We look forward to welcoming you to the Inn!