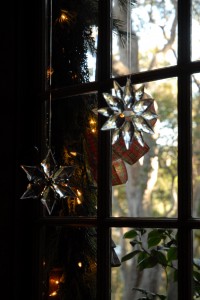 We hope everyone enjoyed a fantastic Thanksgiving Holiday. We at our Monterey Bed and Breakfast had plenty to give thanks for this year, most importantly all of the wonderful guests who spend time with us at our beautiful Old Monterey Inn throughout the year. The holidays are steeped in traditions for most families, and for us at the Old Monterey Inn one of our favorite traditions is, of course, the long awaited opportunity to deck the halls.    
In the first week of December, Monterey is home to an event called Christmas at the Inns. During this festive event, participants are chauffeured around to the numerous inns and bed & breakfasts that host Monterey's international clientele. During the week between Thanksgiving Day and Christmas at the Inns, we go all out!  Along with our traditional Christmas décor, we also break out the winter recipes!  Expect delectable Christmas themed cookies and refreshments, elegant and nostalgic holiday music, and a breathtaking adorned pine in our cozy living room. Nothing warms the soul like curling up with a loved one next to our wood burning fireplaces with a steaming mug of herbal tea or a great glass of wine from one of our fantastic local wineries from the Carmel Valley.  
Christmas at the Inns is a great way to get in the holiday spirit, and it is one of our favorite holiday Monterey events! If you are fortunate enough to be a resident of the area, this is a great opportunity to check out your local hospitality businesses in full swing!  The dates for this memorable event are December 4th and 5th from 6:00 to 9:00 pm each evening; the Old Monterey Inn is participating on Wednesday the 5th. The Pacific Grove Chamber of Commerce website provides ticket and registration information!
If you're looking for yourself or for another, we do have gift certificates available for purchase. Giving the gift of ultimate elegance and relaxation is truly priceless! Keep an eye out for our monthly specials and our low seasonal rates!!