Join us for a full day of wine tasting during your Monterey getaway. We've taken all the planning out with our Chauffeured Wine Tour Package! Your 5-hour tour for two begins at our Monterey bed and breakfast. Your driver will arrive at 10:45 am to whisk you off to Carmel Valley for the day's adventure! You will enjoy VIP tasting at four Carmel Valley wineries with a break for lunch at either Café Rustica or Corkscrew Café – two local favorites! Your driver will return you home to Old Monterey Inn at approximately 3:45 pm, just in time for complimentary evening wine & hors d'oeuvers at the Inn!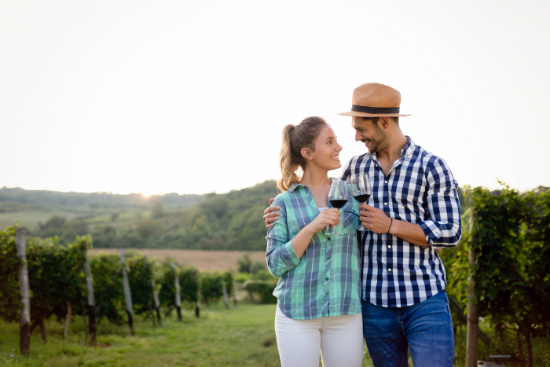 The wineries included on your tour may include the following:
Boekenoogen Winery~ "Superior Pinot Noir, Chardonnay and Syrah varietals"
Located in the heart of Santa Lucia Highlands appellation, Boekenoogen Winery is one of only a few wineries that grow, produce and bottle on-site. The combination of superior clones, rocky well-drained soils, meticulous viticulture practices, foggy mornings and sunny afternoons moderated by cooling maritime breezes, has resulted in producing superior Pinot Noir, Chardonnay and Syrah varietals which reflect the characteristics of the Santa Lucia Highlands.
Heller Estate ~ "Organic Wines That Dance On Your Palate!"
The 120 acres of Cabernet Sauvignon, Merlot, Cabernet Franc, Chardonnay, Chenin Blanc and Pinot Noir are planted at an altitude of 1200 – 1500 feet, producing rich, luscious grapes, which result in outstanding premium wines. The vineyards are certified 100% organic.
Bernardus Winery ~ "Try the Marinus Red Wine – 92 Points!"
Owner Ben Pon appreciates wine as an art – a form of art that transcends the ordinary. His dream is to make a red wine equal to the finest from Bordeaux. At Bernardus the textural element-"the mouth feel'-is the most important expression of wine.
Parsonage Village Vineyard ~ "Rated Best Tasting Room in Monterey"
The south facing slope acts as a natural heat sink providing moderate heat for an extended growing season and perfect ripening. The focus is not on high yields, but the health and maintenance of every vine. The vineyard is harvested as each section is ready, ensuring powerful flavors from physiologically ripe fruit.
This popular package and full day experience is just $699 per couple, plus cost of accommodation. A 2-night minimum stay is required. 
To Book: Choose your favorite room for two nights from our online availability calendar then click "Book Now." Choose the "Chauffeured Wine Tour Package" in the next step and complete your reservation, and enter credit card information in the final step. Package price will be included in quoted rate. We will contact you to confirm reservation details.
Taxes not included, all other Inn policies apply. Wineries and restaurants subject to change.