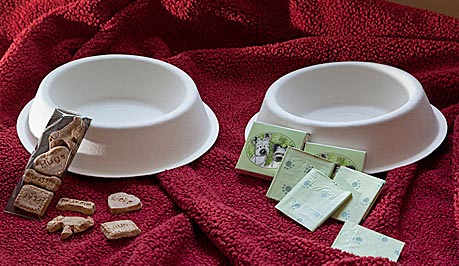 If you are searching for a pet friendly Monterey hotel or inn, you have come to the right place! We welcome small well behaved dogs looking for a room in Monterey, Carmel, or Pacific Grove.* Our pet friendly rooms have private outdoor entrances on the garden level, and are conveniently located to access over an acre of our landscaped pathways and lawn area. If that is not enough "paw" room, our pet friendly Monterey lodging is located in a beautiful residential area with sidewalks galore! We will even treat our doggie guests to their own exclusive welcome packet, complete with blanket to be used in the room, personal doggie dishes, pick-up baggies, and gourmet treats for good behavior! Please call us for information and availability on our pet friendly rooms.
While you stay at our dog friendly hotel in Monterey, CA, you will most likely meet our own West Highland White, Lucy. She is very friendly and loves to show off  by giving high-fives and playing dead – (just an attention getter)! She is very dear and we hope you enjoy her SMILE.
*Pet Guidelines
If you plan to bring your pet(s), you must notify us at the time you make your reservation.  Prior approval is needed as we take only one room per night with a pet.
We welcome well behaved, and house broken small breed dogs up to 25 lbs. There is a $30 pet fee per dog (limit of 2) per night.
We ask that you not leave your pet in your guest room or vehicle unattended. If you wish to go to dinner or to another activity without your pet, we kindly ask that you make arrangements for your pet to be supervised. A list of approved pet sitters will be available to you at the front desk.
You are responsible for your pet(s) behavior. The Old Monterey Inn has an outdoor grassy area, and a residential neighborhood to walk around. Pick up bags and a trash receptacle is available for your use. Pets must remain on leashes or under owner command at all times while on inn property. Pets are welcome in the garden and patio; however are not allowed in the buildings (other than the assigned room).
We will be glad to provide you with a sheet to cover the bed linens, should your pet sleep on the bed with you. Feel free to bring your pet's favorite blanket or bed as well for your visit.
Pet Sitters and Day Care facilities, below, are independent contractors and are to be paid directly.
Dawg Gone It  (831) 920-1487 539 Ramona Avenue, Monterey
Doggy Day Care (831) 521-8347 168 Central Avenue, Pacific Grove
Home Away from Home (831) 375-1215 1231 10th Street, Monterey
We look forward to welcoming you and your pets!